Topical minoxidil, low-level light therapy, PRP, and dietary supplements offer women a chance to restore their hair and confidence.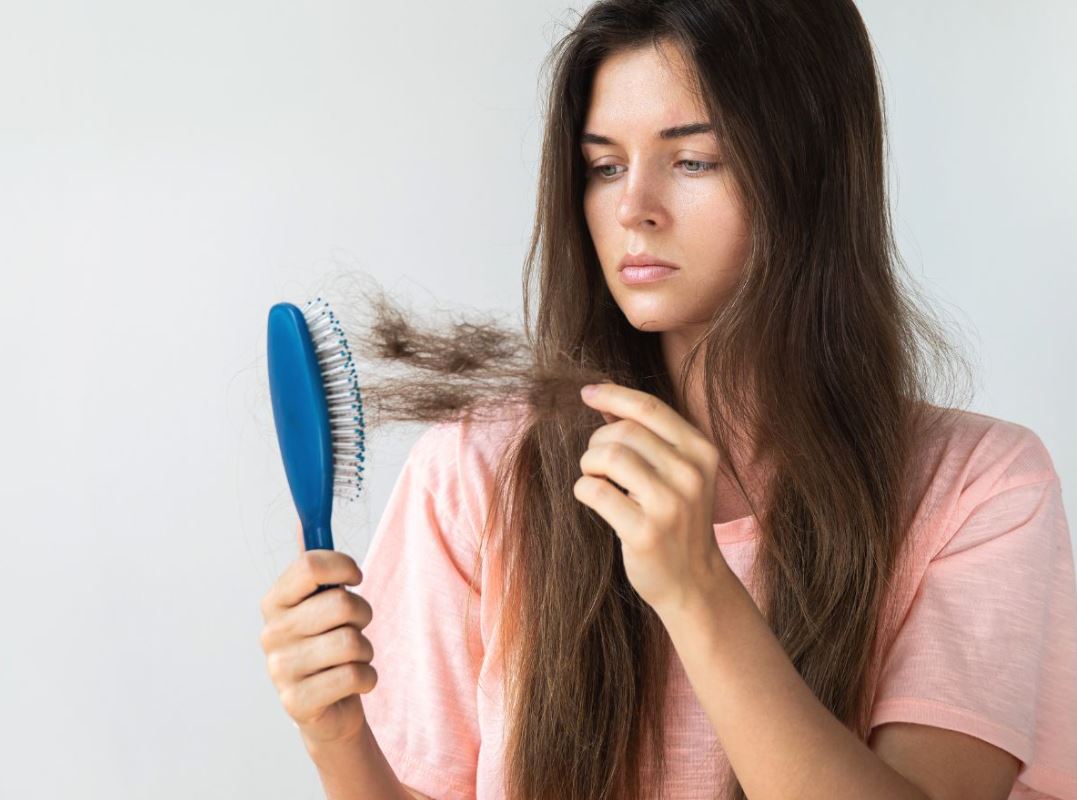 Hair loss in women is a deeply personal and often distressing experience. It's a condition that affects some 30 million women in the United States alone. This isn't just about losing hair; it's about losing a part of oneself that is often intimately tied to identity and self-expression. For many, each strand lost is a blow to their confidence and self-image. The impact of hair loss on a woman's well-being cannot be overstated and Team Dermatology in Memorial and Sugar Land, Texas offers nonsurgical hair loss solutions to stop or manage ongoing hair loss. 
What Is Female Pattern Baldness and What Causes It?
Female pattern baldness, also known as androgenetic alopecia, is the most common form of hair loss in women. Research points to the sensitivity of hair follicles to a hormone called dihydrotestosterone (DHT), a hormone derived from testosterone.
In women with androgenetic alopecia, hair follicles are genetically predisposed to be sensitive to DHT. This sensitivity leads to the miniaturization of hair follicles, a process where hair follicles shrink over time, producing progressively thinner and shorter hairs. Eventually, these miniaturized follicles may stop producing hair altogether.
The hormonal changes that accompany aging, particularly around menopause, can also advance hair loss. As estrogen levels decline, the relative influence of androgens like DHT increases, potentially accelerating hair thinning and loss. This interplay between genetics, hormones, and aging underpins the complex nature of female androgenetic alopecia. 
Signs of Female Pattern Baldness
The first sign of female pattern baldness is usually a widening of the part or a feeling that the hair is not as thick as it used to be. Unlike men, women don't often have a receding hairline but experience a general thinning that affects the volume of their hair. This thinning can be subtle at first, but gradually becomes more noticeable, often leading to reduced scalp coverage.
4 Best Hair Restoration Treatments for Women's Hair Loss
There are many causes of hair loss and only a dermatologist or hair loss physician can tell you what is causing your thinning hair. The good news is, there are also a number of effective hair restoration treatments that offer long-lasting results, including PRP treatment for hair loss. 
1. Topical Minoxidil
Topical minoxidil is an over-the-counter medication and it is the only FDA-approved medication for women's hair loss. It works by prolonging the growth phase of hair follicles, leading to thicker, fuller hair. Women are typically advised to use the 2% concentration, applied directly to the scalp once daily. Consistency is key, as it may take several months to see noticeable results.
2. Low-Level Light Therapy (LLLT)
LLLT is a non-invasive treatment that uses laser light to stimulate hair growth. It has been shown to enhance cellular activity in dormant hair follicles, stimulating regrowth and preventing hair loss. Portable LLLT devices, like laser combs and helmets, offer the convenience of at-home treatment so they're also a popular choice among women.
3. PRP Treatment for Hair Loss
At Team Dermatology, we offer platelet-rich plasma (PRP) to women who want a "natural" way to treat hair thinning. PRP treatment for hair loss involves drawing a patient's blood, processing it to concentrate the platelets, and then injecting it into the scalp. These platelets are rich in powerful growth factors that encourage hair growth and strengthen hair follicles. 
PRP is a popular treatment at our clinic because it offers a natural approach to hair restoration and provides promising results, particularly in cases of early hair loss. It's simple, and convenient, with no downtime or incisions at all. With PRP, there's no need to miss work or bear with long recovery time. 
4. Dietary Supplements
Most people don't even realize it but deficiency in certain vitamins are linked to hair loss. It's hard to determine the exact cause of your hair loss without consulting with a hair loss specialist but some signs of vitamin-related hair loss include having dry, brittle hair, or a scalp that is excessively dry or flaky. 
Supplements containing biotin, collagen, iron, zinc, and vitamins A, D, and E can provide the nutrients to support hair health and can be especially helpful for women who may not be getting enough of these nutrients in their diet. 
Team Dermatology Essentials 
To help women combat hair loss and support their hair restoration journey, the hair loss specialists at Team Dermatology formulated their own line of oral nutraceuticals. These supplements contain essential vitamins, minerals, amino acids, and botanicals that have been clinically proven to help with women's hair loss.