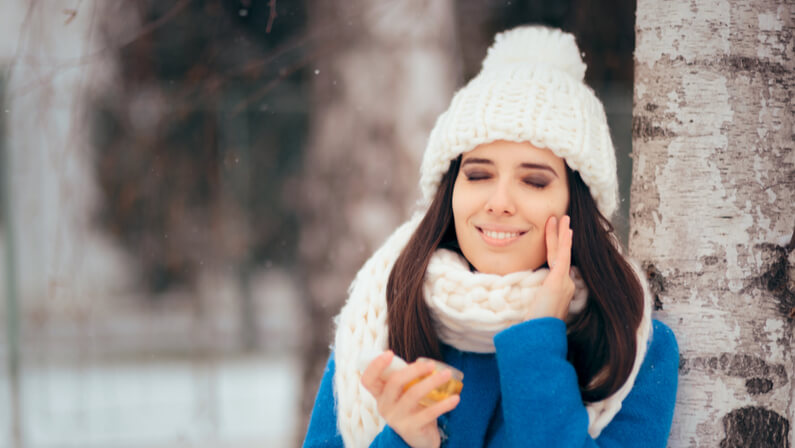 Along with the winter season, the chilly weather comes with symptoms of skin irritation–dry patches, rashes, and redness. Hoping to protect your skin from the cold? Read on to learn what you can do to keep your skin healthy during the winter months. 
Winter Skin Issues
Anyone who has struggled to keep their skin healthy knows that winter weather can make new problems crop up and old skin issues worsen. Here are a few common winter skin problems to look out for.
Worsening Chronic Skin Conditions
Because exposure to light can slow the hyperactive growth of skin cells behind psoriasis, symptoms of the disease can run rampant in the dark winter months. Harsh winter conditions also have an effect on eczema, when spending more time in dry indoor air can trigger outbreaks. 
Winter Sunburn
Just because it's winter doesn't mean you can't get sunburned! In fact, because snow reflects the sun, you can actually get more severe sunburns when spending time outside during the winter. This means, if you love to ski or get out on your snowshoes in the colder months, you run the risk of doing some serious damage to your skin. Even if you live somewhere that doesn't get icy in the winter, any sun exposure you get poses potential risks.
Dry Skin in Winter
The air is typically drier in the winter, and that combined with the cold and the harsh air of indoor heating systems causes dry skin. Chapped hands and lips are common in winter, as is flaky skin all over the body. 
How to Protect Your Skin in Winter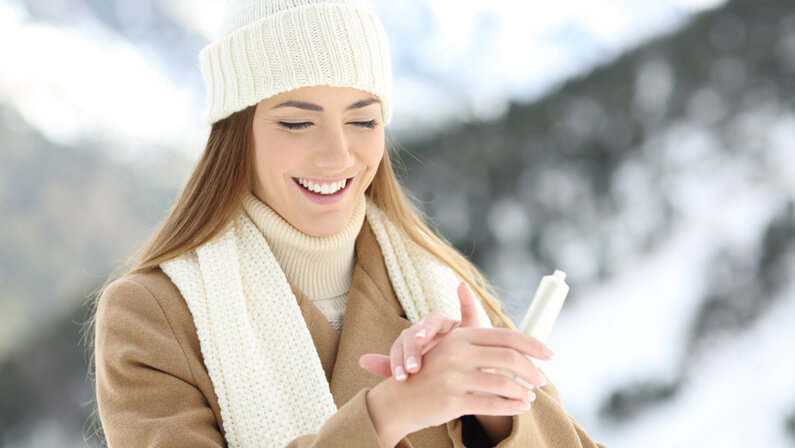 Luckily, there are several ways you can protect your skin during the coldest months of the year.
Moisturize

(Rather than gravitating towards scented lotions, try thicker oils such as petroleum jelly or products with shea butter or coconut oil to combat itchy skin. Stick to natural ingredients and creams without dyes or fragrances that could irritate the skin. If you have very sensitive skin, look for a lotion without lanolin. Apply moisturizers right after a shower in order to trap in some much-needed hydration.)
Wear Sunscreen

(Headed outside? Make sure not to skip out on sunscreen. You'll want to go with sunscreen that has SPF 30 or higher.)
Don't Cleanse Too Often

(It is important to bathe and wash your skin to get rid of bacteria that may grow there. However, too much water can actually zap your skin for much-needed hydration and strip your skin's natural defenses. Try taking shorter showers than usual, and not bathing more than once a day in the winter. Stick to lukewarm, rather than hot, water when bathing or washing your hands so as not to remove important natural oils from your skin.)
Choose the Right Products

(It's good to be picky about the products you put on your skin! Look for cleansers that are derived from natural ingredients, avoid any added fragrance, and try baby products for the gentlest rinses. You may want to keep lip balm and hand cream with you during the winter in order to retain moisture.)
Bundle Up

(Exposure to cold air and wind can be detrimental to skin health. When going outside in cold weather, make sure to bundle up and cover up your skin. Try wearing gentle fabrics, such as 100% cotton or silk, on your base layer.)
Take Vitamin D

(Most people develop a small vitamin D insufficiency in the winter months when they get less exposure to sunlight. To combat this, check with your doctor and then pop a supplement in the darker winter months. Vitamin D is essential for skin rejuvenation and protection!)
Talk to Your Dermatologist
If you are concerned about your psoriasis or eczema in the winter or need some help navigating the colder weather and its effect on your skin, bring it up with your dermatologist! Reach out to make an appointment today and find out how our professional dermatology team can help you protect your skin in the cold weather this winter.